SUMMER BONUS
To thank you for choosing PokerStars.fr, the opportunity to earn a bonus of €300 is offered to you! 
The number of VIP Player Points (VPP) you accumulate in July will determine the amount of your bonus. In August, you should at least reach the number of VPPs earned in July in order to release it. If you want more information about the VPPs, visit the VIP Club page.
For 50 cumulative VPPs, you will get €1 bonus. You can get up to €300 bonus by accumulating 15,000 VPPs!
The amount minimum of the bonus is €10 or 500 VPPs collected (the same amount needed to reach the SilverStar status)
To participate in this promotion and receive your bonus you must deposit a minimum of €10 on your PokerStars.fr account by using the code PokerStars.fr 'ETE2013' during the month of July. The bonus amount doesn't depend on your deposit amount and date.
Example
If you accumulate 1,000 VPPs in July, you get a €20 bonus. To release this bonus, you must accumulate at least 1,000 VPPs in August.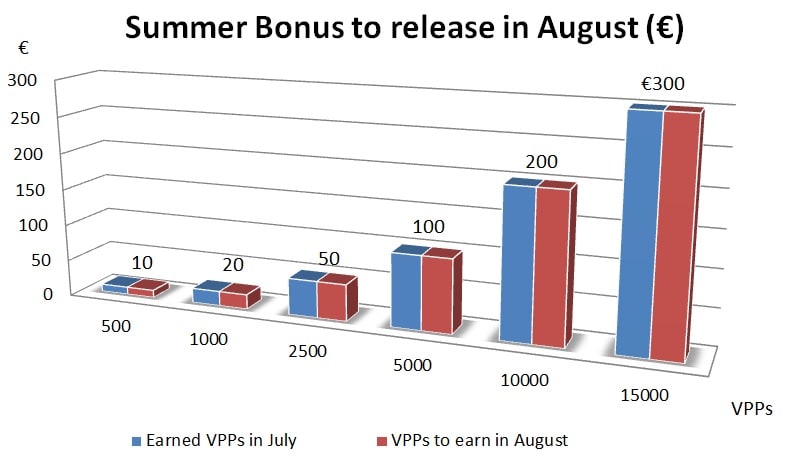 Note: If you cash out from your account during the bonus period prior to making a deposit, you will not be eligible for the bonus.
The summer bonus accumulated in July will be activated in the first 72 hours of August. You will be then able to see it in 'Cashier' then 'My Bonus Status' and to begin to earn VPP to clear it within 31 days.
Early August, if you haven't fully released your First Deposit Bonus, you will benefit from your Summer Bonus later on. We invite you to contact support at support@pokerstars.fr within three days after the full release of your current bonus so that we can activate your Summer Bonus.