Poker Hands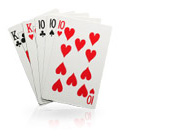 At PokerStars, we deal many varieties of poker, some of which use different hand rankings.Hold'em, Omaha, Seven Card Stud and Five Card Draw all use the traditional 'high' poker rankings.Omaha Hi/Lo, Razz and Stud Hi/Lo use the 'Ace to Five' ('California') low hand rankings for low hands.2-7 Single Draw and Triple Draw use the 'Deuce to Seven' ('Kansas City') lowball rankings for low hands.
Lastly, Badugi uses a special ranking of hands unique to that game.
Know your stuff? Play our interactive game at the bottom of this page.
Ready to test your knowledge of poker hand rankings? Play our tutorial now.